In the digital era, disruptive technologies have started to play a key role in several sectors, including education and training. Increasingly, old-school training techniques are being complemented by innovative teaching methods that rely on augmented and virtual reality systems.
Augmented and Virtual Reality
Augmented and virtual reality training systems are student-focused, allowing individual students to progress at their own pace. Welding apprentices learn and understand welding procedures and techniques through a more interactive training method, gaining hands-on experience in a controlled, safe environment.
With zero risks involved, apprentices can respond to realistic scenarios without pressure or fear of injury. Augmented and virtual reality training is enabling future welders to acquire the skills and the self-confidence they need before moving into real-world workshops.
The new paradigm in vocational, technical and industrial training, augmented and virtual reality training technologies are proven to be efficient and environmentally sustainable, offering significantly reduced CO2 emissions when compared to traditional welding training and slashing consumable usage. These systems allow training centres and industry to save costs and time whilst training professional welders.
Rather than studying theory, augmented and virtual reality transforms training and learning from and text books into high-quality interactive experiences that capture the imagination.
Advanced Welder Training Centres
This disruptive training technology is a key feature of Weld Australia's national network of Advancer Welder Training Centres.
Weld Australia has worked with partners around the country to secure State and Federal Government funding for the establishment of Advanced Welder Training Centres (AWTCs).
Using the state-of-the Soldamatic augmented reality welding simulator, the training delivered at the AWTCs quickly qualifies welders to the only industry Standard in the world that is accepted in both Europe and America: ISO 9606-1 Qualification testing of welders – Fusion welding.
This Standard is the minimum requirement for working on rolling stock, defence and infrastructure projects, which are crucial to onshore Australian manufacturing and a stronger national economy.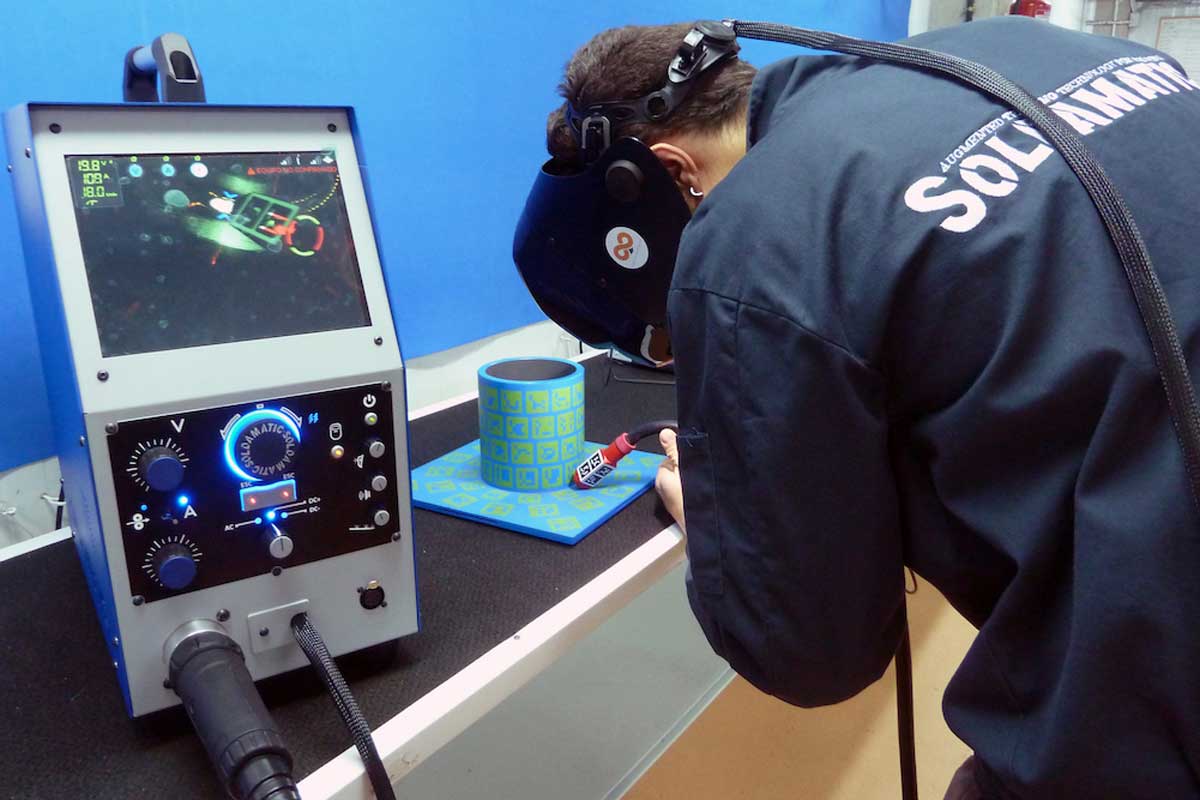 Soldamatic Augmented Reality Welder Simulators
Since its inception in 2014, over 1,500 Soldamatic units have been sold in more than 40 countries. The disruptive technology has been used in training by some of the world's largest manufacturers, including Siemens, John Deere and Volkswagen, in addition to uptake by both international educational institutions and government bodies.
This rapid, widespread adoption of the technology is not surprising, given the results that the Soldamatic system has already achieved, particularly in terms of reducing training time and costs.
Soldamatic conducted tests comparing their augmented reality technology to traditional welding training. The results demonstrated that 34% more welders were certified in 56% less time, saving up to 68% on the overall cost of welder training.
In addition, Soldamatic increases the time on arc by three to five times, and enables training institutes to educate four times more students while maintaining their existing lab infrastructure.
Revolutionising Welder Training in Australia
Without a doubt, the successful implementation of this innovative training initiative is revolutionising welder training in Australia.
Advanced welder training technology is raising the standard of welder education in Australia exponentially, putting our welder training on par with the best in Europe and America.
Workforce development training needs to educate tomorrow's employees and help today's workers improve upon their existing skill set. The result – a better trained, more knowledgeable worker at all phases of the employment cycle. This is particularly true when it comes to educating workers in skilled trades such as welding. Incorporating disruptive new training technologies designed to narrow the skills gap helps prepare graduates for real-world work.
Recent News & Views on Advanced Welder Training Technology