Apprentices are an important asset to securing Australia's local manufacturing sector, generating growth, and stimulating the economy.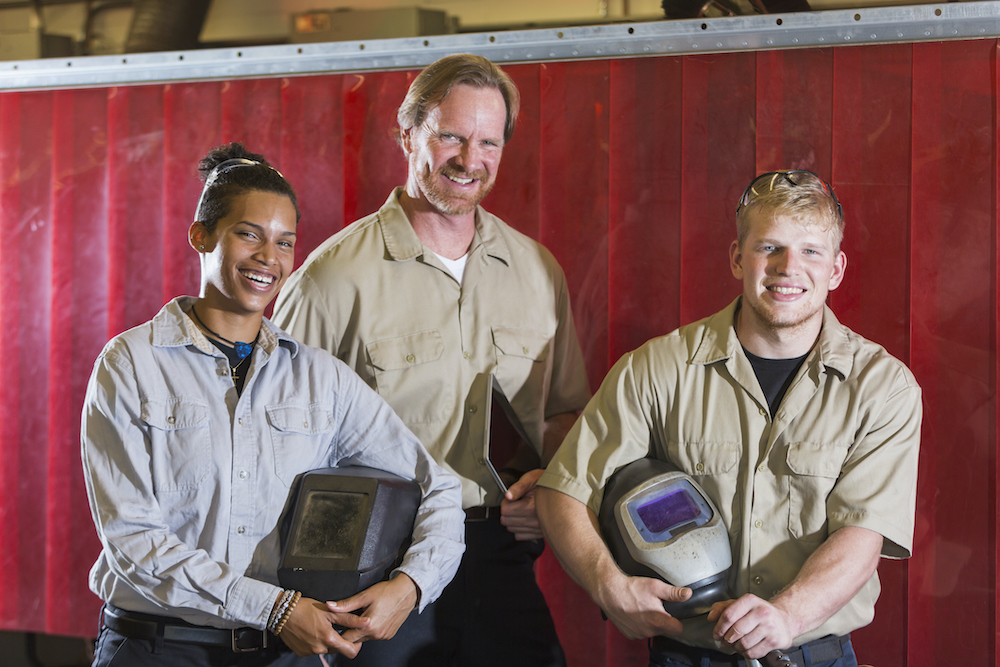 Australia requires a significant increase in skilled, qualified tradespeople on major projects, and in industries as diverse as defence, shipbuilding, aerospace, infrastructure, rolling stock, and resources.
Weld Australia works with Registered Training Organisations (RTOs) and vocational education training (VET) providers, like TAFE, to support welding and fabrication apprenticeships to address the skills shortage facing the welding industry.
Weld Australia is committed to meeting future industry needs, and securing a strong and viable future workforce in Australia.
Membership
Weld Australia membership is an investment in your success, and the success of your career. Our student and apprentice memberships will help guide you towards an increased income, professional development opportunities and grant you a competitive advantage.
Our student and apprentice memberships are free for currently enrolled students and apprentices completing a welding related vocational training course with an Australian RTO. In order to qualify for this membership, you will need a Unique Student Identifier (USI), the full name of your RTO and the approximate date of course completion.
Student and Apprentice Membership is free.
Training
Weld Australia provides a wide range of specialist training courses. As an International Institute of Welding (IIW) Authorised National Body (ANB) and an Authorised Training Body (ATB) we are able to provide internationally recognised qualifications.
Once you're a trade qualified welder, you can take advantage of Weld Australia's range of courses, which are recognised by the IIW. Our advanced knowledge and critical understanding of welding technology is second to none. Our training courses include:
Welder Certification
Welding Inspection
Welding Supervision and Coordination
Certification
Weld Australia's internationally recognised training courses lead to qualifications and certifications that demonstrate to employers a dedication to ongoing learning and professional development. Our courses provide a comprehensive knowledge of welding, equipment, materials, and the skills required to work independently and cohesively within the sector.
Our courses are a strong addition to any career portfolio, as they are each supported by a broad range of major industry groups and hundreds of Australian companies.
After the successful completion of most of our courses, you will receive an internationally recognised Diploma, which allows you to work locally and maintain global competitiveness. They also open new career avenues for ongoing professional development and further qualifications.
Welder Training Technology
Weld Australia understands the benefits of advanced welder training technology like augmented and virtual reality training. Weld Australia has secured funding to establish Advanced Welder Training Centres (AWTC), which are based at several  TAFE campuses around Australia. The AWTCs develop a new generation of skills-ready apprentices with expertise to support the global supply chains of small, medium and large scale enterprises across a range of sectors. Each AWTC draws on the benefits of augmented reality training, which superimposes an image in a real world environment. This innovation is critical to securing a strong localised welding workforce, who meet safety requirements for the future.
Advocacy
As the peak body representing the welding industry in Australia, Weld Australia is the leader in advocating for the growth of world class welding in Australia. In all our advocacy activities, our goal is to secure the future of Australia's welding industry.
Our team promotes and advocates for enhanced practices and greater opportunities for Australian welders and fabrication companies. Our advocacy agenda is focused on:
Resources for Apprentices
Resources
Explore Weld Australia's online resources. From Technical Guidance Notes and Guidance Notes through to business resources, we provide a range of information critical to your success.
Events
Weld Australia runs a wide range of events designed to support current industry needs and emerging areas of interest. Our interactive workshops and seminar sessions allow attendees to develop an understanding of key subject areas with other likeminded people.
Weld Australia's State Committees also host regular technical visits and presentations throughout the year. These technical visits grant Weld Australia members with access to some of the country's leading fabricators, engineering companies, shipbuilders and research facilities. The State Committees also host social events, where members can get together in an informal setting.
News and Views
Receive regular updates from the welding and fabrication sector with Weld Australia's regular news and blog posts. Our articles and posts reflect key changes in the sector, and share opportunities for organisations, apprentices and industry personnel to grow.
Our flagship, e-publication, Australian Welding is published quarterly, and shares articles, knowledge and events from within the sector. Additionally, Weld Connect is our monthly e-bulletin, which is published ten times a year.