Weld Australia has worked with partners around the country to  establish Advanced Welder Training Centres (AWTCs). Using the state-of-the-art Soldamatic augmented reality welding simulator, the training delivered at the AWTCs quickly qualifies welders to the only industry Standard in the world that is accepted in both Europe and America: ISO 9606-1 Qualification testing of welders – Fusion welding.
TAFEs and RTOs across Australia have invested in the Soldamatic augmented reality welding simulators, preparing their students for a future in the industry.
The combination of a curriculum based on global best practice delivered via advanced training technology will help ensure a strong supply of capable welders, both now and well into the future. Without a doubt, the successful implementation of this innovative training initiative is revolutionising welder training in Australia. It is raising the standard of welder education in Australia exponentially, putting our welder training on par with the best in Europe and America,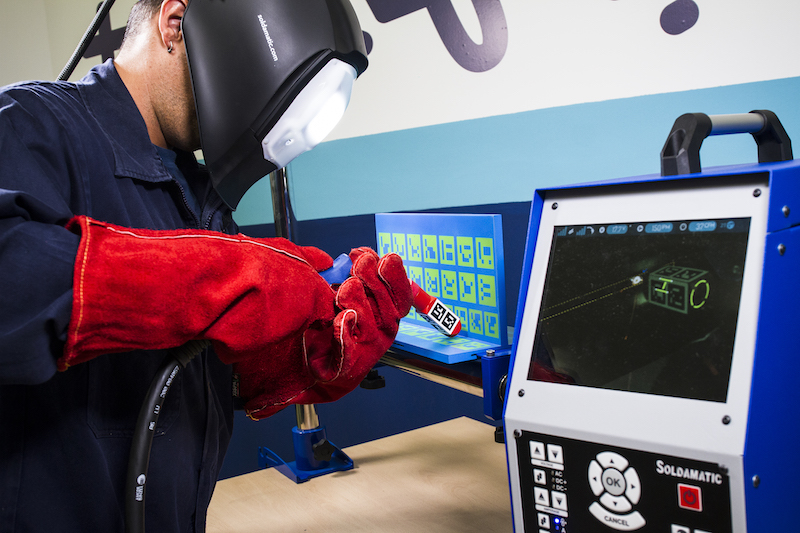 ACT
Canberra Institute of Technology
cit.edu.au
81 Mildura Street, Fyshwick 
Queensland
TAFE Queensland
tafeqld.edu.au
Cairns Campus: Gatton, Newton, Eureka and, Wilkinson Streets, Manunda

Townsville (Trade Centre Bohle) Campus: 763 Ingham Road, Bohle

 

Toowoomba Campus: 100 Bridge Street, Toowoomba City

Ashmore Campus: Benowa Road & Heeb Street, Ashmore

Nambour Campus: 91 Windsor Road, Burnside

Bundaberg Campus: 118 Walker Street, Bundaberg West
Tasmania
Tasmanian Minerals and Energy Council
tasminerals.com.au
13 Wellington Street, Burnie
Victoria
Box Hill Institute
boxhill.edu.au
465 Elgar Road, Box Hill, Melbourne
Bendigo TAFE
bendigotafe.edu.au
23 Mundy Street, Bendigo
Federation University
federation.edu.au
Lydiard Street South, Ballarat
WHAT THE AWTCs HAVE TO SAY
Garry Hargreaves (Corporate Solutions Manager Commercial, TAFE Queensland – SkillsTech)
 According to Garry Hargreaves (Corporate Solutions Manager Commercial, TAFE Queensland – SkillsTech), the augmented reality welding simulators have fundamentally changed the way welders are trained in Queensland. 
"Participants get an understanding of welding principles up to 40% faster when using the welding simulators. The simulators make training faster, more efficient, more flexible, and more engaging than traditional teaching methods. And, we use less consumables, so there is much less waste across the program," said Hargreaves. "When we change parameters—different metals, or processes, or welding procedures—we can change the simulator settings quickly and easily, which is really useful. It offers exceptional flexibility in that regard. The simulators also have a Learning Management System onboard so we can store participant settings and output welding videos and view the improvements throughout the program." 
"The feedback from participants has been overwhelming. The gamification aspect of augmented reality is highly engaging, especially for younger demographics. Often, we need to push participants out of the augmented reality lab because the next class is waiting to come in—augmented reality is an inherently engaging technology. Participants want to stay late, start early, and work through lunch." 
"The investment in the simulators necessitated an in-depth tender process, including the evaluation of augmented reality simulators versus virtual reality simulators. "In the end, we opted for augmented reality because it works with the actual environment you're in— overlaying digital information on the real world. This is preferable in industrial applications as it closely simulates real application of skills. In comparison, virtual reality presents the user with a fully artificial environment," said Hargreaves. 
WANT TO KNOW MORE?
For further information about Soldamatic augmented reality welding simulators contact: Tania Martin on 0436 461 426 or t.martin@weldaustralia.com.au